Shepherd Eye Center is pleased to introduce the most advanced breakthroughs in intraocular lenses (IOLs) to treat cataracts in Las Vegas. Premium IOLs are the most effective option for many patients to reduce spectacle dependency.
They help with cataracts and vision problems like astigmatism and presbyopia. With premium lenses, patients can see clearly across several distances, restoring the clarity of vision.
The procedure for removal of the natural lens, and implantation of a premium multifocal lens during cataract surgery does not differ from cataract surgery using a standard monofocal lens. During surgery, the cloudy, natural lens of the eye is removed.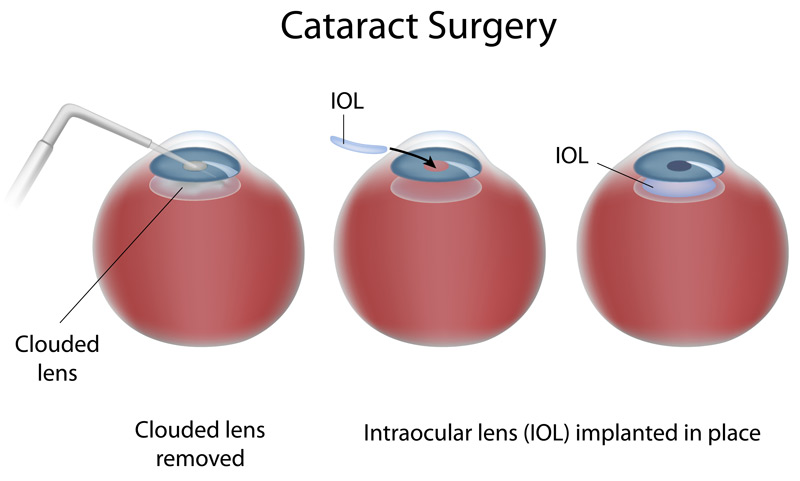 It is then replaced with an artificial lens implant calculated specifically for the necessary amount of nearsightedness or farsightedness. If a patient is seeking the added benefit of being able to see at a range of distances after surgery without the need for glasses, a premium intraocular lens is a great option.
The surgeons at the Shepherd Eye Center perform more cataract surgeries than anyone else in Nevada and therefore, have extensive experience to accurately recommend this surgery upgrade to those patients it will benefit the most. This exciting advancement in lens technology allows patients to see both distance and near, even for those patients over the age of forty who might otherwise need bifocals or reading glasses.
---
PanOptix Trifocal Lens

What are The Benefits of the PanOptix Trifocal Lens?
The PanOptix is an FDA approved trifocal lens. This life-changing IOL lets patients enjoy their daily activities while reducing the need to wear glasses.
The PanOptix trifocal lens allows for clear vision at all three distances. This includes distance, intermediate, and close-up vision. The lens can be used for cataracts and blurry vision resulting from an irregularly shaped cornea.
AMO Symfony EDOF Lens

How Does the AMO Symfony Lens Work?
With the AMO Symfony lens, patients experience high-quality vision at most distances. They can also see with reduced incidences of glares and halos.
This minimizes the need for glasses after cataract surgery. Symfony IOLs are specially designed with features to improve the quality and the range of vision.
Patients with the Symfony IOL experience a greater improvement in their intermediate vision. They also see great improvement with their distance vision.
To treat age-related presbyopia, the AMO Symfony is implanted into the eye during cataract surgery. Recovery time after the procedure is minimal, with most patients returning to their normal routine only a day after surgery.
Vivity EDOF Lens

Why Should I Consider Choosing a Vivity Lens?
In cataract surgery, patients who want to reduce their dependence on glasses after surgery may decide they want the PanOptix trifocal lens. But this IOL is not right for everyone.
If you find out that the PanOptix trifocal lens isn't right for you, the Vivity lens is another great lens to consider. With the Vivity IOL, patients can see well at intermediate and far distances and have functional near vision without glasses.
This innovative lens also means a considerable improvement in the quality of life for patients with presbyopia. Those using Vivity, a non-diffractive lens, report low levels of glares, starbursts, and halos.
The Vivity IOL is a blue-light filtering and UV-absorbing foldable IOL. Compared to a monofocal intraocular lens, a Vivity lens offers an extended range of vision. It accomplishes this without increasing visual disturbances like glares or starbursts.
If a patient has mild macular degeneration or is experiencing dry eyes, a multifocal lens can worsen vision. But a Vivity IOL is more likely to perform as well as a monofocal lens.
All of the above lenses come in Toric versions to correct astigmatism.
Toric Lens

What are Toric Lenses?
Toric monofocal IOLs correct astigmatism, which occurs when the cornea is an irregular shape. For those with astigmatism, this often leads to blurry or distorted vision.
A toric lens improves how well you see without needing to wear glasses to see at one distance. It can be calculated for distance, intermediate, near, or monovision.
Multifocal Lens
 
How does the Multifocal IOL work?
As we perform daily activities such as reading, watching television, or working at the computer, our eyes are constantly focusing on objects at varying distances – up close, far away and everything in-between. The ability to quickly change focus throughout this range of vision is called accommodation.
Unfortunately, this ability diminishes, as we grow older, causing us to become dependent on bifocals or reading glasses. Premium lenses are designed using technology that has been used for years in microscopes and telescopes to improve image quality and reduce the need for glasses following cataract surgery.
Offering the Very Best in Patient Treatment and Care
The type of lens you choose will depend on the health of your eyes, personal preference, and lifestyle. To know which premium IOL suits you best, schedule a consultation with the eye doctors at Shepherd Eye Center in Henderson, NV!
Save